JOHO YUKO WAPI? Sudden Silence of Sultan-003 worrying followers!
By Chaduchi News Correspondent, February 22, 13.00 hours EAT, Kilifi Kenya.
He has been hitting headlines. He has is vocal. He is bold. and Sometimes controversial. His political domineer is invisible. Questions are beginning to raise. Yuko wapi Joho (where is Joho)? Why the sudden silence?
Not only Mombasa residents but Kenyans are concerned about the whereabouts of the Governor, and they are letting him know about it.
In 2018, a cheeky missing person poster of Governor Hassan Joho emerged on social media drawing the attention of netizens who responded by coming up with different theories on his whereabouts. The poster was shared by a tweet carried one of the governor's famous portrait picture with the words written in capital letters, "Mombasa County Government missing person, Gov Ali Hassan Joho."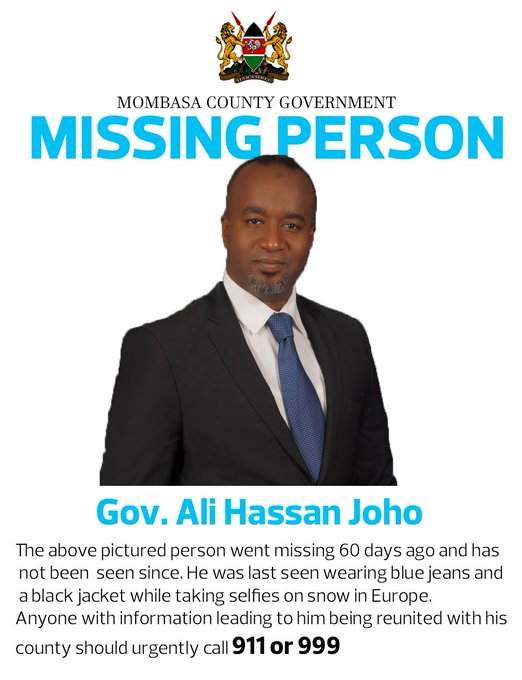 With that witticism, Chaduchi News suspects that the same pun is re-emerging with similar questions. From Mombasa BBI Rally, Joho has been out of public limelight and and media attention.
Early this year, Mombasa Governor Hassan Joho has been found guilty of contempt of court after failing to obey orders in a property case. It is unclear to Chaduchi news whether his silence is caressed by the current frustrations he is witnessing with regards to the court matter. Because Joho is 'loudly' quiet.
But they are silent voices saying is out of the country. Not for an official trip but to seek medical medical attention. This rumour is yet to be proved whether it is true.
"Breaking: a Very popular governor from Coast region is in Minneapolis MAYO clinic as he was reported that he has been sick and away from the public limelight for quite sometime."

A Concerned Netizen from Mombasa
Joho missed in action in Kitui BBI meeting. He was also not invisible in Kabarak during the burial of the late Daniel Toroitich Arap Moi though he posed photos of him attending the Nyayo Stadium's service.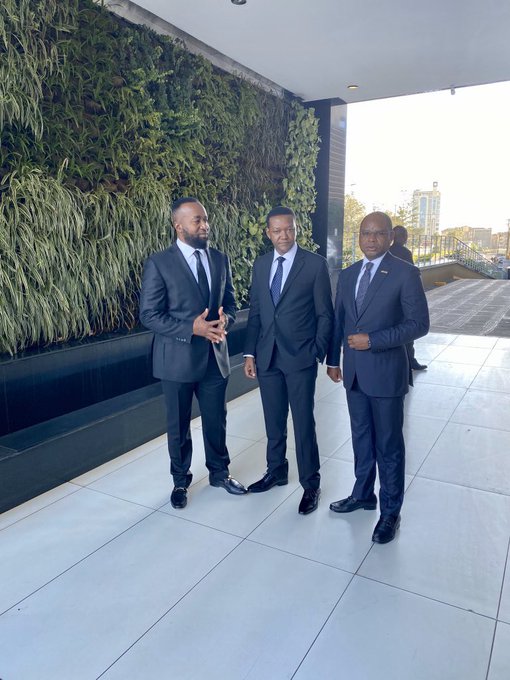 Joho's love for a lavish lifestyle, numerous foreign trips and the expensive attires he flaunts has elevated his popularity as one of the visible politicians in the Coast region.
But it is not the first time Mombasa people complain:
While speaking at the Kenya Correspondents Association (KCA) convention in Mombasa, Muslims for Human Rights (MUHURI), led by chairperson Khelef Khalifa accused Joho of living lavishly as Mombasa residents languished in poverty.
"Joho hardly lives in Mombasa. The only aspect of him which remains in Mombasa is his name. He is always out of the country being entertained by musicians. When he is away, do you expect the crime rates in Mombasa to reduce? The governor is using money meant to support the welfare of the youth in his regular foreign tours," Khalifa stated.
"There are many stalled projects in Mombasa that the governor has never updated us on when they'll be completed. In the recent years, he toured different parts of Mombasa promising to complete the projects, but today, they have all stalled," Hakinet Human Rights Initiative coordinator, Michael Magail added.
Today as we write, I hope Joho will re-emerges in Narok's BBI Rally. He is missed in podium. Where was he?