NO MORE REGGAE, MAYBE 'OHANGLA' OR 'MUGIITHI'-Deathblow to BBI humbles Raila and Uhuru!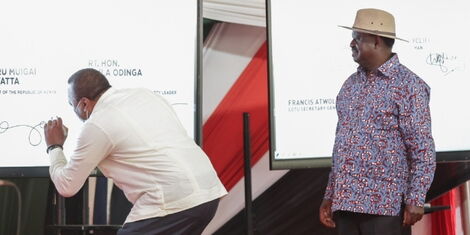 Uhuru and Raila Launching the BBI Report at
the Bomas of Kenya. Court of Appeal Judges sitting on
Friday 20, to give their verdict on the petition filed by Uhuru and Raila
On Friday 20, August, the Kenya's Court of Appeal upheld the illegality of the constitutional review process launched by President Uhuru Kenyatta and his handshake partner Raila Odinga, which has seen their plans cut short less than a year before the presidential election.
The reform, dubbed the "Building Bridge Initiative" (BBI), aimed to amend the 2010 constitution - which established a presidential system - to create, among other things, a post of prime minister, two deputy prime ministers and a leader of the opposition and increase the number of seats in parliament. But "the president does not have the power under the constitution to initiate constitutional amendments. A constitutional amendment can only be initiated by Parliament (...) or by popular initiative. The head of state may be subject to civil proceedings for illegally initiating this process, the seven judges also ruled. " said presiding judge Daniel Musinga at the conclusion of the more than ten hours of reading of the ruling.
The BBI has been a source of growing controversy since its launch on November 27, 2019. The Kenyatta-Odinga handshake led directly to the process of Building Bridges Initiative (BBI), whose main objective was to thoroughly investigate nine thematic areas that were deemed by Kenyatta and Odinga to be critical to the creation of "a united nation for all Kenyans living today, and all future generations."
In May of 2021, the five-judge bench struck down the proposed amendment, declaring that "the President does not have authority under the Constitution [of 2010] to initiate changes to the Constitution, and that a constitutional amendment can only be initiated by Parliament through a Parliamentary initiative under article 256 or through Popular Initiative under Article 257 of the Constitution." In other words, an amendment must emerge from the ordinary citizen and not the president, as required by the basic structure doctrine.
Led by the Court of Appeal President Justice Daniel Musinga, judges delivered their judgment for not less than 10 hours. Justice Patrick Kiage, Hannah Okwengu, Fatuma Sichale, Francis Tuyoit, Roselyne Nambuye and Gatembu Kairu formed the Bench. In rejecting the petion, the judges just told Uhuru and Raila that the much hyped Reggae lyrical to the BBI theme has stopped.
The ruling is also a huge blow to Raila Odinga, an Enigma of Kenyan politics for the last four decades. For a politician who has defied huge odds in the past, the judgement is likely to be his biggest political setback yet, as he had planned to use the BBI wave to launch his fifth presidential bid in elections due next year. But one man who is celebrating the development is Deputy President Willian Ruto, who is not in good terms with his boss President Kenyatta since he started working with Odinga. William Ruto, also plans to run for president and had been loudly against the BBI initiative. Immediately after the court of appeal judgment, he tweeted after the ruling: "There is God in heaven who loves Kenya immeasurably."