THIS MAN OWEN, HOW IS HE DOING IT?
Kilifi North MP is not only overworking, he is working smart to deliver the Kilifi North Promise!
By Chaduchi Correspondent, February 11, 2020, 14.00 EAT, Kilifi Kenya
In Summary:
Inspired by his love for education, Hon. Owen Baya's performance on educational infrastructure transformation in Kilifi North is unmatched.
But his role in setting pace for devolution-driven development as the 1st County Secretary of Kilifi County through the Rapid Result Initiative (RRI) model emanated positive results in Kingi's first term tenure as Kilifi Governor cannot be ignored.
In less than 3 years, Hon. Owen has succeeded to uplift the status of Kilifi North Education through a well planned set-up efforts of state-of-art infrastructures among them new secondary schools like Kiwandani Secondary and Watamu Secondary schools
Chaduchi news has observed the activities of Kilifi North Member of Parliament, Hon. Owen Baya. The writer is tempted to believe that his style of leadership is enlivened by several famous personalities in the world. Among these leaders are Albert Einstein, Michael Jordan and Warren Buffet. In their stories, it is clear that they spent years working hard in their respective fields and were able to produce results, that the world had never known before! For instance as we speak today, Warren Buffet can make smart judgments in the field of investments because he has worked hard to gain those skills.
"Work hard, and you will earn good rewards. Work smart, and you will earn great rewards. Work hard and work smart, and you will earn extraordinary rewards."

Matshona Dhliwayo
For Hon. Owen Baya, Kilifi North MP, his short term achievements as Member of Parliament representing the good people of Kilifi North coupled by his work history as the first (2013-2017) County Secretary of Kilifi County have lived by the spirit of "Work smarter as you work harder." Everyone has their own definition of this phrase, but it generally means he has been using his thinking skills to minimize tasks and extra steps, so that he use his time wisely and more effectively to get things done quickly.
In the year 2002-2007, Kilifi North Consituency then Bahari Constituency had a leader in the name of Hon. Joe Matano Khamis. The then Bahari legislator Joe Khamisi was perhaps the only MP in the country who consciously fought for a second term (without success) on the strength of what he has done with the constituency development fund (CDF). He had the courage to stand atop a mountain and tell opponents that he has put Bahari on the national map as the constituency with the best run CDF projects.
Though he unsuccessfully defended his seat in 2007 following the wave-styled and highly-euphoric politics that didn't favor him, his biggest strength, the CDF, had a committee that used to prepare budget, priorities and implements the projects without his interference. But credit went to him for providing leadership.
Through his leadership success in CDF, the national office and committees from other constituencies trooped Bahari to praise him. The CDF money changed lives of both school children and adults.
Using the fund, the following projects were accomplished and delivered to Bahari people: a secondary school at Ngerenya and 87 primary schools have been supplied with 12,000 desks; Twenty boreholes sunk to bring water closer to homes, Vipingo health centre rehabilitated and a district officer's office built at Chonyi. In addition, the money was used to build an Administration Police camp, housing 12 officers at Matsangoni; four boats have also been bought to ease communication along the channel. One boat was to go from Uyombo to Watamu, one from Kilifi Town to Takaungu and another plies the Kuchi-Mtanganyuko stretch. The other covers Mnarani-Kilifi Town route.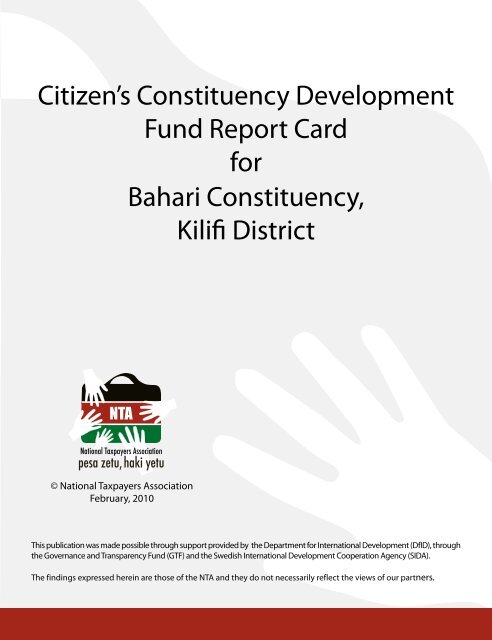 Today as i write this article, the memories of Joe Khamis's legislative performance and Constituency development record are well refreshed by Hon. Owen Baya now as the current Member of Bahari for Kilifi North (former Bahari). Let's take a journey of Owen's performance record right from the time he was Kilifi County Secretary.
On March 4, 2013 Kenyans voted in the first election under the new constitution, introducing ambitious devolution reforms. Under these reforms significant political functions, fiscal resources and administrative responsibilities have been devolved to forty-seven county units at the sub-national level. This created Kilifi County Government as one of the 47 devolved Governments with Amason Jeffah Kingi as the 1st Governor deputized by the late Kenneth Mwakombo Kamto. By the time Kingi was sworn in, Owen had just landed from a study tour in the United States of America. Kingi worked without sound structures for almost a year (the entire 2013) until when the 1st County Secretary was brought on board through successful competitive recruitment by the Public Service Board.
On effective public service delivery
When Owen took over as the first County Secretary of Kilifi towards the end of 2013, the administrative vibrancy started being visible in the Kilifi County Administration. in less than 3 months after taking over as the County Secretary of Kilifi, Owen oversaw the development of the 1st Kilifi County Integrated Development Plan (2013-2017) as a framework to guide development investments and activities in the county for a long term period of 5 years.
Important to note was to ensure that every department was functional by not only through competitive recruitment of CECs, and Chief Officers but also playing a facilitation role in setting up the structures and infrastructures of the departments. Vehicles for all CECs, Chief Officers and senior County officials were procured to ease mobility.
The setting up of the county treasury was done under Owen's watch. Procuring offices for all the ten departments and setting up the office of the Governor was also accomplished in the 1st term of Governor Kingi when Owen was the County secretary.
Important to note was to ensure that every department was functional by not only through competitive recruitment of CECs, and Chief Officers but also playing a facilitation role in setting up the structures and infrastructures of the departments. Vehicles for all CECs, Chief Officers and senior County officials were procured to ease mobility.
The same year, Owen pitched an idea called the Rapid Results Initiative – 100 days RRI. Rapid Results Initiative is a tool for developing planning and monitoring development projects. In Owen's time, many county government sponsored bills were published and enacted. Since Owen left there hasn't been any bills passed at the assembly other than the budget and finance acts which are annual fiscal and legal procedures on county financial management. Most of the following projects were achieved by the end of Governor Kingi's first term.
On Education
Through the RRI implementation, devolution resulted in: 70 new ECDE CENTRE blocks 2 per ward which were established as model centers. All the ECD centers were Equipped with furniture. As a result, increased enrollment of pupils in the ECDE centers, increased number of qualified ECDE teachers and caregivers recruited and employed. There was also a school feeding program that ensures provision of milk to the pupils twice a week; this acted as an incentive to retain the learners in school.
It is through this time that the Kilifi County Scholarship Fund was established after successful legislation in the County Assembly.. Owen ensured the scholarship board was timely established and well housed.
The county distributed learning materials to all ECDE centers in the county that improved teaching and learning. A program which ended when Owen left.
On Health
Over 30 new dispensaries were built and completed with the initial years as part of the RRI flagship projects. Through his time, there was upgrading of mariakani and Bamba hospitals to sub county hospitals.
The construction of a new health complex in Kilifi County was conceptualized by Owen. The facility which is almost complete will have a cancer management unit that will offer radio and chemo therapy services to virtually 5% of residents fighting various types of cancers.
The new project has cost approximately US$ 5m and has come as a sign of relief for cancer patients in the region. It will help de-congest the Coast General and Referral Hospital in Mombasa which have over the years has been having challenges in serving residents from Mombasa, Lamu, Taita Taveta, Kilifi, Tana River and Kwale counties.
Also on health over 50 Ambulances were procured as well state of the art equipments at the County referral hospital. Chaduchi news also noted that during Owen's time, Health Human Resource management in county was effective. They were no perennial strikes by health workers.
Owen initiated plans to transform the two mortuaries (Malindi and Kilifi) into funeral homes.
On Roads
Road graders and bulldozers were procured under this time. Several roads were upgraded to bitumen standards among them Kibaoni all the way to st. Thomas to hospital road, the Mtwapa's posta to Kenol road, Banoff to Kwa chief road among others including in Malindi.
On Agriculture
Several tractors were procured to ease Kilifi farmers on the high cost of farms inputs coupled with distribution of seeds and fertilizers. Livestock (hybrid) distribution to farmers.
Irrigation programmed were introduced to ensure food security and agri business programmes which the current regime have not managed to sustain-due to luck of skills.
On energy and public works
I remember several street light projects were initiated in this time. On public works, several fire engines were procured and stationed in strategic places.
On Trade development and commerce
The charo wa Mae Market and the Malindi Market as well as the initiation of the Mtwapa bus park, and re-development of Kilifi oloitiptip Market among others were conceived during Owen's time. He also led to the conception of the Mbegu Fund idea.
On water, several water projects were also accomplished during this time.
OWEN THE MP
But Owen could not hold in that call to develop Kilifi County as his urge for elective office intensified and by early 2017 he resigned as the County Secretary of Kilifi. He contested for Kilifi North MP and won through an Orange Democratic Party ticket.
Owen made a covenant with Kilifi North people. Two of these commitments were: No child in Kilifi North will school in a mud-walled class or under a tree and no child in Kilifi North will seat on the floor for lack of desks, chairs or lockers.
Today, Owen has eliminated all walled schools in Kilifi North. He set a target of providing 1500 desks every year. He has so far provided 4000 desks in Kilifi North Schools with need.
The 1st after being elected Owen convened an International Education Conference to have a structured conversation on matters education in the Constituency. Over 1000 stakeholders attended the conference including partners and donors in the education sector. The education conference with set up the education agenda for Kilifi North.
Then he went ahead to officiate the first constituency prize Giving day which set the pace for all other constituencies . There has been an Increased number of classes. Owen has built over 40 classrooms, school halls, administration blocks
As an MP, he has achieved a lot. But 3 flagship projects are worthy noting. The first accomplishment worhty noting was the setting up of a new secondary school in sokoni ward called Kiwandani within 2 years after being elected.
Now, he is building a 8 number classrooms blocks. The new school is up and running and the joy of not only Kiwandani people but the entire sokoni ward people is visible in their faces.
Within 2 years of his leadership saw the establishment of a state-of-the-art administration block for Ngala Memorial school in Roka-Matsangoni ward.
That was not enough, while campaigning, he promised Watamu residents that once he become an MP he will build the new Watamu Secondary School. He recently delivered his promise.
Other important delivery is that of ICT as they are schools that have benefited with Computers from Owen's leadership: Mkwajuni, Ngala and Ngeranya. On security, the Mayungu police post is an example of security project .